Stretchee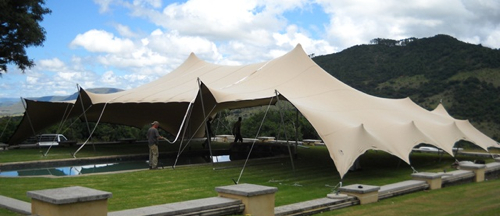 Nothing signals a "Party" or a "Good Time" quite like seeing a marquee going up somewhere. Practically speaking, marquees are temporary venues for use when and where one wants them. In reality the right marquee makes dreams become reality.
Stretchee Tents. Currently fashionable, these are fabric roof coverings supported on different length poles placed strategically within the area. Stretchee tents have for centuries been used by North African Nomadic and Bedouin tribes.
Stretchee tents can be set up in unusual or awkward locations and anchored to the ground or to existing buildings and other fixed points. Demand for stretchee tents is seasonal limited as the sides remain open and absolute waterproofing is a challenge. A variety of colours are available, some of which come at a small price premium.
The best marquee for the occasion is determined by the size and nature of the function, location and budget. Ron's Hire consultants will present the alternatives at any time. However a site inspection and review of the event objectives is always the best approach.
Marquee size should be properly calculated bearing in mind everything that needs to be accommodated in the event venue. As a rough guide though, one can work on an allocation of 1m2 per person standing or seated cinema style or 2m2 per person seated for a meal.
Please view the marquees on our site and contact us for any futher details to make your event a special occasion.
Stretchee Tent - 18m X 25m - White

Stretchee Tent -15m x 18m - White

Stretchee Tent